The tarpaulin has become a backbone of enormous industries, helping them protecting their inventory from the different weather conditions; however, their strength requires being utmost in order to outlast under the harshest weather conditions and that is possible through lamination. The offered extrusion tarpaulin lamination plant is aimed to deliver the top most quality lamination by means of the extrusion lamination technology, which is becoming the mainstay of the hundreds of tarpaulin industries for delivering the flawless lamination at considerably lower cost.
With the increased popularity of this extrusion tarpaulin lamination plant, we also have gained significant fame as an extrusion tarpaulin lamination plant manufacturer, supplier and exporter all across, thanks to the diligence and expertise of the entire team of manufacturing who work untiringly to obtain extrusion tarpaulin lamination plants that not only introduces the latest technology in the market, but also promises for the impeccable & high performance of the entire range during the lamination process. This extrusion tarpaulin lamination plant also meets the outlined quality standards by the international embody, making it acknowledged at the international level.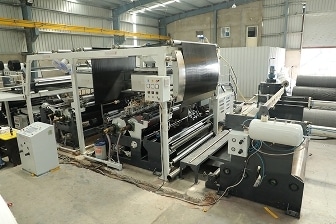 The introduced lamination machine is fully automatic, whose operations are controllable through the PLC control unit that ultimately reduces the manned requirement and increases the output. The polymer is melted through the extrusion and applied between two substrates to create a sandwich structure, whereas the substrates are handled by unwind and uplift rollers. The exact pressure and temperature of the process is maintained by the pressure roller and chill roller through the PLC control unit. The meticulous integration of every part in this extrusion tarpaulin lamination plant makes the entire operation completely flawless, is what essential to reduce the wastage and magnify output.
Our Extrusion Tarpaulin Lamination Plant Details
| | | | | | | |
| --- | --- | --- | --- | --- | --- | --- |
| MODEL | SCREW DIA MM | DIE WIDTH MM | MAX COATING WIDTH MM | OUT PUT KG/HR | MAX LINE SPEED MPM | COATING THICKNESS MICRON |
| GDLAME2200 | 80 | 2200 | 2080 | 170-180 | 115 | 20-100 |
| GDLAM2200 | 80 | 2200 | 2080 | 240-250 | 115 | 20-100 |
| GDLAME2700 | 80 | 2700 | 2550 | 170-180 | 90 | 20-100 |
| GDLAM2700 | 80 | 2700 | 2550 | 240-250 | 90 | 20-100 |
This extrusion tarpaulin lamination plant we proffer in the extensive range, which can be customized as per your requirement if needed. The quality of the range is tested and ensured ahead of the consignment, making it the most reliable affair for accomplishing matchless quality tarpaulin lamination. The vibration free and noise free performance is guaranteed throughout the life expectancy in addition to defect free lamination, and hence immensely popular among the tarpaulin industries.
Our Extrusion Tarpaulin Lamination Machine Advantages
The range is international quality standards compliant
Promises for the topmost quality lamination
High speed and impeccable performance
Can run for the longer period of time without failing
Virtually no maintenance is required
The PLC control enables easy controlling